East Midlands Neonatal Operational Delivery Network
Neonatal Operational Delivery Networks (ODNs) are there to make sure that all babies and their families receive high quality care which is fair and accessible for all.

Each ODN is made up of a group of neonatal units within a certain area and allows the units in it to work together and share knowledge and skills.

By working together, hospitals can provide a streamlined service for babies and their families in a hospital most suited to their needs and as close to home as possible.
What is a Neonatal Network?
---
Formerly the Central Newborn Network & Trent Perinatal Network. The EMNODN is one of some 11 clinically managed Operational Delivery Networks (ODNs) for neonatal services in England. Neonatal Networks were formed following recommendations from the Department of Health in 2003 and their objective is to ensure that babies and their families receive high quality care which is equitable and accessible for all.

Neonatal ODNs are the key central point for clinicians and nursing staff to communicate and collaborate.

There are 11 neonatal units within the EMNODN. These units work closely together in order to provide care for babies born within their area who require specialist neonatal services.

The key aims of our ODN are; - To provide care as close as home as possible - To promote and share best practice - To ensure families are involved in all care that they receive and that they are provided with clear and consistent information and support - To monitor service and clinical quality against national standards - To develop, implement and monitor neonatal clinical pathways - To develop neonatal workforce strategies in order to develop services which are sustainable for the future - To develop and implement neonatal clinical practice guidelines - To provide a neonatal education program which is accessible for all clinical staff

Further information about our Networks can be found in our information leaflet.
---
Our Network Areas
---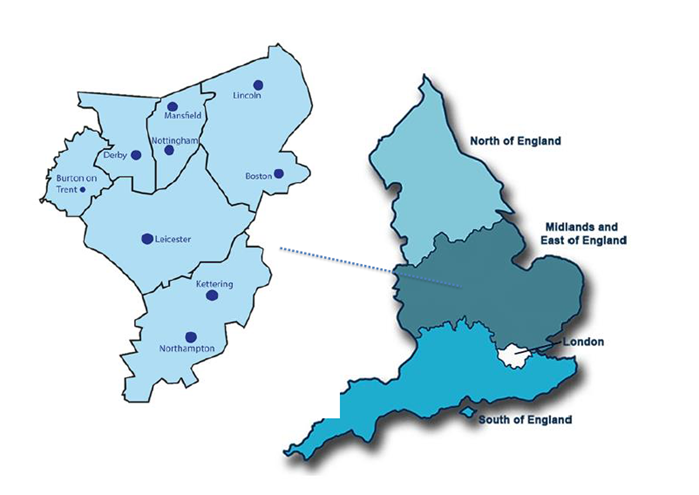 ---
Types of Neonatal Unit
---
There are three types of neonatal unit providing different levels of care, these are; Neonatal Intensive Care Unit (NICU) – for babies who need: - respiratory support (ventilation) - additional support due to low birth weight of less than 1,000g - CPAP and are born at less than 28 weeks gestation - support due to severe respiratory disease - surgery The neonatal intensive care units in the EMNODN are Nottingham City Hospital, Queen's Medical Centre (Nottingham), and the Leicester Royal Infirmary. Local Neonatal Unit (LNU) – for babies who need: - short term intensive care support following apnoeic attacks - continuous positive airway pressure (CPAP) - parenteral nutrition (tube feeding) The local neonatal units in the EMNODN are Royal Derby Hospital, Kettering General Hospital, King's Mill Hospital (Mansfield), Lincoln County Hospital and Northampton General Hospital.
Special Care Unit (SCU) – for babies who need: - continuous monitoring of their breathing or heart rate - additional oxygen - tube feeding phototherapy (neonatal jaundice) - recovery and convalescence from other care The special care units in the EMNODN are Leicester General Hospital, Pilgrim Hospital (Boston) and Queen's Hospital (Burton). In addition to these three levels of care, transitional care is also available in some (not all) of our units.
Transitional Care (TC) This level of care means your baby still has some needs but is almost ready to go home. Most importantly, the mum becomes the main carer with support from a nursery nurse or other staff on the unit. Read more about designation of the individual EMNODN units here. Not all neonatal units have the facilities needed to care for the sickest and smallest babies. If your baby requires a higher level of care than that provided by your local neonatal unit or if your local neonatal unit is extremely busy, your baby may be transferred to another Network hospital to receive care. If there are no available cots it may very occasionally be necessary to move your baby out of Network, in this instance every effort will be made to move your baby back at the earliest opportunity. All efforts are made to ensure that your baby is cared for in an appropriate unit as close to home as possible. When your baby no longer requires a higher level of care, he/she will be transferred back to your local neonatal unit or to another unit closer to home. Read more about transfers within the EMNODN here. Our dedicated neonatal transport service has a specially trained team of nurses and doctors to safely transfer your baby between hospitals. This is called the CenTre Neonatal Transport Service.
---
Network Structure
---
---
---